The power of Sharper CORE breathes life into our Living Digital Twins, which are easily updated using drones or via handheld devices in the field. This means you gain access to a dynamic, data-rich digital twin that allows you to manage risk and never lose touch with your operational reality again.
Key Stats
Distribution poles
captured by automated drones
Structures
inspected in CORE
Lines flown
and counting – that's more than 67,000 km of powerlines
petabytes of data
collected and analyzed by CORE software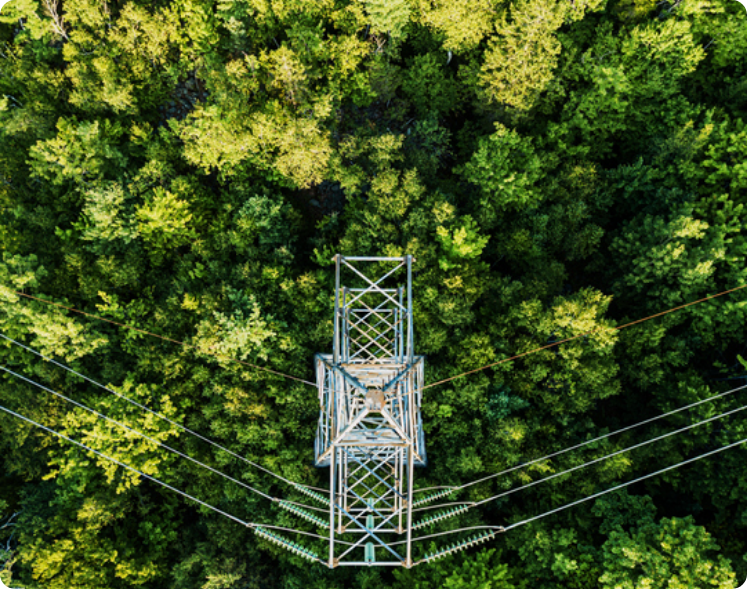 Vegetation
Management
The Living Digital Twin doesn't just map your assets, it maps the living world it is embedded in.
Map every branch and twig and use our growth and species detection algorithms to profile encroachment risk to enhance your vegetation management regime.
Preventative
Asset Management
Every component counts. Capture, understand and inspect each one in Sharper CORE.
Capture your operational reality and interrogate it to identify risks ahead of time and intelligently prioritize your inspection and asset management programs.
What makes the Living Digital Twin built into Sharper CORE so unique? And why does it matter for transmission and distribution (T&D) utilities around the world?
A static digital twin has an expiration date, at which point it is not much more than an expensive map. Ours are dynamic and easily updated manually or using automated drone inspection.
Our AI and machine learning experts are among the best in the world and have developed an ever-expanding library of utility-specific AI algorithms. No other utility digital twin comes close.
You don't have to use our data collection services to benefit from Sharper CORE. We can easily integrate with any quality proprietary or third-party data source to get the most out of the resources you have.
Sharper CORE is hosted by our partner, Amazon Web Services, ensuring industry-leading performance, uptime, and security, while easing integration and boosting return on investment. Access your Living Digital Twin anytime, from anywhere.
Sharper Circle
Utility Requirements
No two utilities are alike, and off-the-shelf often means off-the-pace. Our holistic approach adapts to each utility's requirements, making sure to integrate with their existing processes and solutions.
Mission Planning
Next, choose the right data collection methods for your projects and mission. Is a drone best suited to the task, or a helicopter? What cameras, sensors and software are needed for the payload? Got your own data? We can use that too.
Data Collection
Flow your data into the Sharper CORE platform, or we can help collect it with our proprietary Heliscope 2.6 Consolidated Linear Inspection (CLI) hardware. With initial data in place, we can utilize our automated detailed inspection capabilities to collect specific data, locate components and defects, and increase accuracy, safety and efficiency.
Digital Twin
Data is then visualized, inspected, and prioritized in the Sharper CORE Living Digital Twin, offering at-a-glance insight designed with utilities in mind. Users are empowered with anytime cloud-based access to a rich Living Digital Twin for inspections, asset and vegetation management, and forecasting.
Detailed Inspections
Users can use the Living Digital Twin to carry out detailed use-case specific inspections, such as for vegetation and asset management. For example, individual trees can be assessed, and species identified to detect encroachment risks, while each and every component can be inspected at a granular level.
Inspection Forecasting
Sharper CORE's built-in AI algorithms enable utilities to look ahead and detect critical hazards, automate LiDAR segmentation, pinpoint vegetation growth encroachment and analyze asset deterioration, conductor thermodynamic simulations, high risk and dangerous crossing analysis and more.
Actionable Workflows
Sharper CORE makes it easy to generate and send and track prioritized, actionable work orders that account for critical factors such as local regulations, budged, risk assessments, schedules and allocation of work – direct from Sharper CORE to stakeholders in the field.